Dialectical Behavior Therapy (DBT)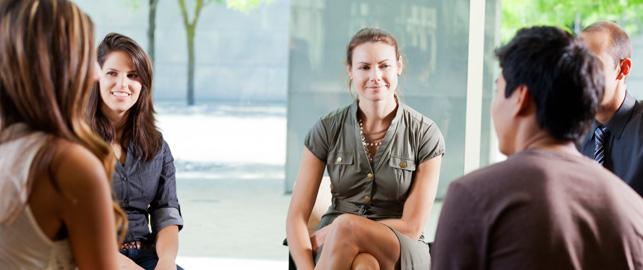 Dialectical Behavior Therapy (DBT) is a skills-building therapeutic approach developed by Marsha Linehan, PhD. DBT is an evidence-based treatment modality, that has been heavily researched in numerous clinical trials. DBT skills training has been shown to be an effective adjunctive treatment for eating disorders, particularly bulimia and binge eating. Research shows that, through DBT therapy and DBT skills groups, one can learn practical and specific coping skills that can be readily accessible when urges occur.
The 24 week DBT skills group offered by MBHA helps the patient learn effective coping skills taught in a weekly hour and a half class. This is not a typical psychotherapy group where members talk to each other about their feelings and discuss reactions to one another. Instead, members can share as much or as little as they are comfortable with, while the class focuses on improving behavioral, emotional, and cognitive instability. It also includes development of the following four skills:
Mindfulness:

This DBT skill will help you live in the present and more
fully experience your senses. Mindfulness will help you focus your mind
and increase attentiveness.

Interpersonal Effectiveness:

Helps you ask for what you need,
better cope with interpersonal conflict, and improve the overall quality
of your social and family relationships.

Emotion Regulation:

This will help you to better identify your emotions,
reduce emotional reactivity, and improve emotional stability.
Distress Tolerance: These skills will help you to improve impulse
control and better tolerate stressful experiences.
Each week there is a homework assignment to practice the skills that are taught. Members will
be asked to try that week's skill in their day to day lives.
For more information, please contact us at info@mbhany.com or call 914-723-MBHA.
Please contact us for a FREE phone
consult to discuss your needs
[si-contact-form form='7′]